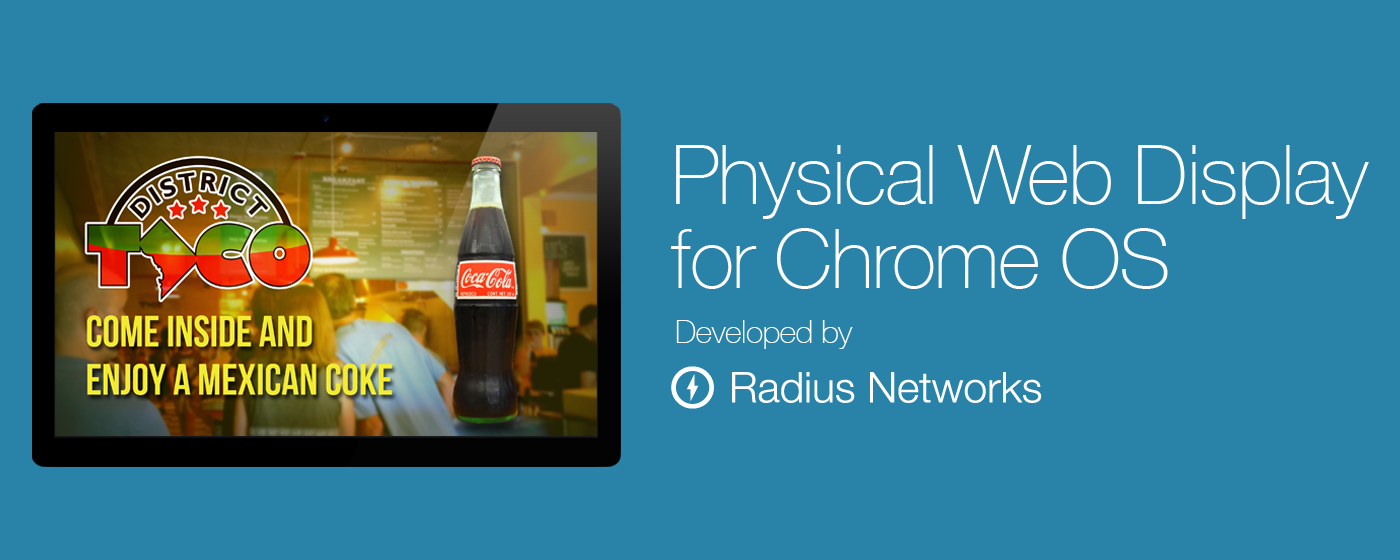 We are excited to announce the newest product from Radius Networks, Physical Web Display for Chrome OS. Physical Web Display is a Chrome Kiosk app that combines the advertising and marketing power of digital signage with the user enhancement and engagement of the Physical Web. With this app, you can easily set up an array of custom digital signage displays that not only show content to potential users or customers visually, but also connect with them directly via their mobile devices with the Physical Web.
So what makes this different from every other digital signage app out there? Can't you just use a QR code to share a URL and let people access it easily on their phones? Or maybe an NFC tag? Well QR codes are great and all, but literally no one has ever scanned one to open a URL. Physical Web is like a QR code that people will actually use. URLs are pushed over-the-air to a user's phone automatically, so they can check out your site without having to be the one guy that scans a QR code while everyone else around silently judges them. NFC tags are a little better, but they require you to slap one on or around every display you have out there. The Physical Web Display app uses the internal Bluetooth capability of the Chrome OS device to transmit the URL, so everything works out of the box without additional effort.
How can this help your business or organization reach users or customers? Rather than just asking them to check out your website or download your app, you can link them directly to your homepage, webstore, Facebook page, or Twitter feed. You can broadcast the URL to download your app in the App Store or Google Play Store directly, all without the aforementioned clunkiness of QR codes, NFC tags, or manually entering URLs. With deep linking in mobile apps, you can even send users to a specific location inside your app.
The app works by letting you provide custom content to display on-screen, which is then paired with a custom URL that you provide. This URL is transmitted over Bluetooth using Google's Eddystone URL standard (the backbone of the Physical Web) while the paired content is displayed, reaching nearby users and allowing them to easily access the URL. You can add as many of these content/URL pairs as you want, and configure how long each one is displayed before rotating to the next one in the queue.
The Physical Web Display app runs on any Chrome OS device, from the small yet powerful ASUS Chromebit to the all-in-one AOPEN Chromebase, both of which are perfect for digital signage. To get started, find the right Chrome OS device for your needs and head to our knowledgebase for instructions on installing the app on your device and configuring your first advertisement. You can also check out Physical Web Display in the Chrome Web Store. For more info about the Physical Web and its possibilities check out our blog post and the Physical Web site.